De Compagnie Operationele Reserve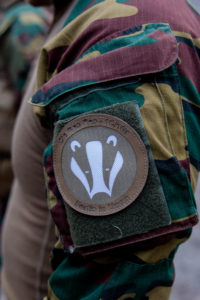 Wie zijn we?
De Compagnie Operationele Reserve (COR) van het Bn 1 C/1 Gr past binnen het nieuwe concept van een gewapende reserve, ter ondersteuning van de manoeuvre-eenheden.
In ons geval betreft het de eenheid 1 C/1 Gr, de Carabiniers-Grenadiers. 
Wat zijn onze opdrachten?
Inzet van de COR situeert zich voornamelijk in territoriale opdrachten zoals Operationele Verdediging van het Grondgebied (OVG) en Fort To Port (het bewaken van haveninfrastructuur bij ontscheping van US militair materiaal). 
In tweede instantie kan de COR ingezet worden als "Vijand" of Opposing Forces (OPFOR) bij bataljons- of Compagnie-oefeningen.  
Wat verwachten we van jou?
Om op niveau te blijven verwachten we dat je je 10 dagen per jaar (2 periodes van vijf dagen) kan vrij maken om 2 trainingsmodules te volgen.
Tijdens deze trainingsmodules doen we onze schietbeurten geweer en pistool en volgen we onderricht in kaartlezen, Tactical Combat Casuality Care (TC3), Close Range Techniques (CRT), Mounted Operations in Urban Terrain (MOUT), CBRN, radioprocedures en Joint Individual Common Core Skills (JICCS). 
Verder is fysieke paraatheid ook een voorwaarde.
In eerste instantie leggen we de loopproeven af die ook elke actieve militair moet doen, maar we proberen zoveel mogelijk ook in orde te zijn met de gevechtstesten (zwemmen, mars, hindernissenpiste, optrekken en pompen).
Tenslotte is inzet natuurlijk het einddoel voor de Compagnie. Daarom verwachten we dat je, naast je trainingsdagen, je ook 5-10 dagen per jaar vrij maakt voor een opdracht zoals OVG of versterking voor 1 C/1 Gr tijdens hun oefeningen.
Hoe kan ik meedoen?
Dit is afhankelijk van je ervaring binnen Defensie: 
-Zat je ooit al bij Defensie als actief militair en heb je getekend dat je in de reserve wilde blijven (ACARES), dan kan je direct beginnen.
-Ben je reservist bij een andere eenheid: je kan direct beginnen, mits toestemming van je korpscommandant.
-Je hebt geen eerdere militaire ervaring of je bent op definitief verlof (>10 jaar sinds actieve dienst): je zal via de vacatures op www.mil.be terug moeten solliciteren voor een positie. Dat houdt in dat je 4 weken opleiding zal moeten volgen alvorens je mee kan doen aan onze trainingsmodules.